Edgewound resistors are characterized by:
high currents: continuous rated currents up to 103 A, in intermittent duty up to 1650 A
low ohmic values starting at 0,018 ohm
high power ratings up to 3300 watts in continuous duty and natural-air cooling
a high-energy absorption during instantaneous discharges up to 527 kilojoules
For requirements beyond these values, resistor assemblies are used.
Every ohmic value can be provided in the range of feasible values.
Description
Edgewound resistors are constructed with :
a coil of edge wound heavy resistance alloy ribbon
grooved insulators supporting this coil
welded terminals and mounting hardware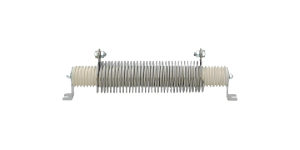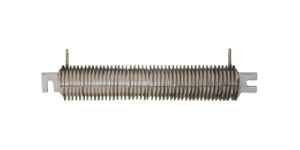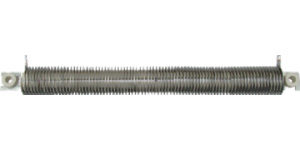 BC resistor with secondary insulation
Series and models
The models of the standard TOFIL and BC series use the same edge wound resistance coils and have the same electrical characteristics.
The BC and TOFIL resistors differ in their mechanical structure and dimensions.
The specific characteristics of a resistor depend on :
the type of resistance ribbon, which can be chosen from among 21 types/lines
the length of the resistance ribbon, i.e. the number of turns because all turns have the same size and step
The 21 lines of ribbon differ in the cross-sectional size of the ribbon and the type of the material, to be chosen from 4 resistance alloys based on the required characteristics, especially the temperature coefficient and cost.
To choose a TOFIL or BC model and its mechanical and electrical characteristics, use the technical documentation – downloaded from this page – or tell us your requirements: we will be happy to help you chose the best solution for your needs.
Other non-standard products can be provided on request or as replacement parts for old models (M17, etc.).
Non-standard products and examples of resistor assemblies are shown on this website and in the technical documentation